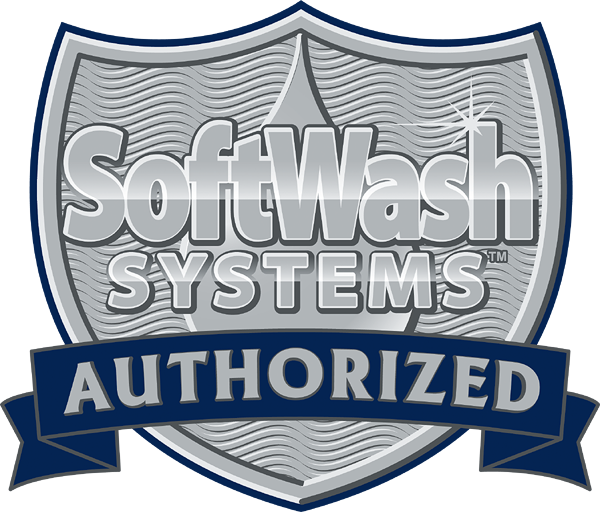 O.K……so what exactly is schmutz?
noun –
an unpleasant, unidentified substance. Something that soils an otherwise clean object.
Dirt, filth, mold, goop, slime, gunk.
Urban Dictionary: Used by Jewish mothers to identify that you've got some kind of crap on your face.

Seriously……..my roof is dirty- What actually is that stuff?
Your roof is not dirty…it's infested with bacteria.
Your roof's "dirt" is actually a form of bacteria, thriving and feasting on your roofing surfaces first, but you will probably see it on other areas of your property too. The bacteria's scientific name is "Gloeocapsa Magma", GM for short. The bacteria spores spread by air from roof to roof, property to property. The micro-organisms feed off of moisture, and the limestone fillers found in roofing products. GM is typically found on the north and north east sides of roofs/buildings/fences which receive less sun, along with shady areas that tend to stay wet longer.
Accumulation of the bacteria starts to show as the ugly black/green/gold stuff that you see. This bacteria colony grows an actual microscopic root system that penetrates whatever surface you see it on, even concrete and clay roof tile! The more it grows and spreads unchecked, the more moisture it holds- accelerating the bacteria growth. It is a vicious circle of roof and property destruction, decay and a dramatic drop in your home, or business curb appeal.
For a more detailed, scientific explanation, click here.
Won't the rain wash it off?
No. In fact, the rain adds nourishment to the bacteria and helps it grow. If you look closely after a rain the green/gold color is more vibrant. Remember this Gloeocapsa Magma has a microscopic root system that digs in to the surface.
Do you have to walk on my tile roof?
Usually no. 99% of the time , our roof cleaning and treatment work can be done from the gutter line using ladders, or even from the ground. Softwash equipment and technology allows us to achieve fantastic results this way.
Can you get rid of the schmutz on anything else besides roofs?
Yes. We get rid of schmutz on the exteriors of homes and buildings, fences, walls, gutters, solar panels, pool decks, driveways and more. Take a look in the Residential and Commercial services section for some great before and after photos.
Is this schmutz (Gloeocapsa Magma) harmful to my health or my property?
It can be yes. Left alone to grow and spread this bacteria/mold can end up inside our homes duct system. We have seen it spread inside attics, attaching itself to the underside of roof sheathing. Obviously this means we begin to breathe it on a daily basis. But don't take it from us. Here is an excerpt from Dr. Victor H. Morgenroth a semi-retired, adjunct professor of neurology at UM:
"While not all mold (fungi) and algae pose a health danger, some are harmful, especially for us older folks, younger children and people who suffer from asthma and respiratory problems. Their spores, which are on your roof, can get inside your home because they end up on the driveway and walkways from rain, and are easily tracked inside. They can even be drawn into our air conditioning systems and eventually populate our ducts.
Different mold species can have varying health effects, but it is important to remember that any excessive mold growth needs to be taken care of, regardless of the species. Any excessive mold growth can lead to increased allergies, toxicity, and house/building structural problems."
To read the entire article "Roof Algae Health Concerns" by Dr. Morganroth (click here)
So you get rid of it by pressure washing, right?
No! Even though we could make WAY more money pressure washing your roof, its the wrong thing to do on many levels. Here are just a few reasons why pressure washing is the WORST thing you can do:
Pressure washing Gloeocapsa Magma is the equivalent of mowing and fertilizing your lawn. It does not kill the root system. Pressure washing just trims the top of it leaving the root system in place. It also spreads the bacteria everywhere and waters it at the same time. All bad. You may think it's gone but what you've done is groomed and fed this monster that will return thicker, healthier and in much bigger quantities.
Pressure/power washing is incredibly destructive and dangerous (click here ). Most roofing manufacturers will void product warranties if you pressure wash. Don't fall for the often told tale of pressure washing "soft tips" or "we turn the pressure down" nonsense.
Pressure/power washing in most cases is in direct violation of Drought Ordinances, Clean Water Act, Stormwater Pollution Prevention Control, and more. These violations subject you and the pressure washer to monetary fines by state and local authorities.
The solution is softwashing by Coastal Softwash USA.
What is soft washing?
New to the West Coast, Soft Washing has been used extensively and successfully throughout the East Coast for decades. It is simply a cheaper, faster, safer way to clean and sanitize exterior surfaces. Soft Washing is used extensively at theme parks, sports stadiums, on cruise ships and even children's playgrounds. In the residential marketplace, this method is best used for Roof Cleaning, House Washing, Deck Cleaning, Fence cleaning and in some cases cement cleaning. Because of the damage that pressure washing (also known as power washing) can do to exterior surfaces, the soft wash process of using highly effective eco-safe cleaning detergents, 100% biodegradable chemicals, and very low water pressure was developed. The softwash system not only cleans better, but also is used to treat and sanitize the surfaces as well. The end result is the mold and bacteria are killed at the roots which prohibits it from returning for many years.
With Soft Washing, custom blended cleaning solutions are applied to the surface by use of special, low pressure pumps. The pressure is about the same as what would be seen coming from a garden hose. It is the cleaning solution that does all the work. Whereas, with the use of a power washer, it is the pressure of the water stream that is trying to do the cleaning by cutting, but is usually damaging the surface at the same time. Soft Washing cleans and brightens without the abrasive damage of a pressure-washer.
Is soft washing safe for my landscape?
Yes, because we are trained, certified and use state of the art equipment and technology. Each application is specifically tailored and mixed to achieve the goal of cleaning and sanitizing the particular item we are working on- roof, exterior, fence, pool deck etc. This, along with our state of the art, low pressure equipment allows us to be very precise and accurate in applying our eco- safe, 100% biodegradable mixture directly to the infested areas.
Is soft washing safe for my pets and children?
Of course, but because we are using hoses, ladders etc., it is always best to keep kids and pets inside until we are finished, everything is dry, and all our equipment is rolled up and secure. Rest assured that, while we are prohibited from using its name, our soft wash process has been used extensively by a well know theme park in Orlando, Florida (hint-it's mascot is a mouse) .
Is soft washing safe for the environment?
Absolutely. Soft Washing is the environmentally responsible choice.
Coastal Softwash USA's soft wash system has been built completely around a mindset of environmental stewardship and was developed by a horticulturist.
Coastal Softwash USA's system uses approximately two thirds less water than pressure washing.
Coastal Softwash USA's system doesn't use fossil fuel burning engines like pressure washing.
Coastal Softwash USA's system lasts four to six times longer than traditional pressure washing- meaning less visits, less chemicals, less water, less energy and less waste!
What if we are in a drought?
Soft washing was created specifically to address drought issues. Generally speaking the soft wash process uses just 1/3 the amount of water that pressure washing uses. As an example, an average roof can be effectively soft washed using approximately 1 bathtub full of water. That's it. Our process complies with drought ordinances, the Storm Water Pollution Control policies and the Clean Water Act.
Remember, you are eradicating a potential health hazard to yourself and your family while improving the appearance of your property, your neighborhood and saving water too.
Does Coastal Softwash USA do any pressure washing or power washing?
Yes! Approximately 70% of our business today is still pressure washing. Pressure washing,though, is best used on hard flat surfaces such as concrete, brick, stone etc., usually found on patios, pool decks, driveways, etc. We still will always softwash first, then pressure wash, so the surface cleaned is 100% sanitized and any moss/mold/algae is killed. Pressure washing alone will not do that.
Do you guarantee your work?
Yes. We include a 5 year "spot free" warranty for all soft wash projects. This warranty stays with the home and is therefore transferable.
Are you certified or approved by the system or products you use?
Yes. We are certified by Softwash Systems Inc. which requires extensive training of products, equipment, mixology, safety and integrity through classes, seminars, labs and more.
Are you insured?
Of course. For your protection, we carry $1,000,000 Public Liability and Property Damage insurance along with the expected Workers Compensation insurance for all our employees.


"We have been putting up with this ugly black and green moss or algae on our tile roof for years.... but heard bad things about getting a tile roof power washed. Then we came across Coastal Softwash USA.... we are extremely happy with the results!"
Dennis S., Redondo Beach, CA
Project: Tile Roof softwash


"We had Coastal Softwash USA clean our solar panels. Very professional, showed up with lots of equipment, like they do this for a living, not some guy working out of the back of a pickup. We'd hire them again in a second."
Michael B., Sherman Oaks, CA
Project: Roof and home exterior softwash


"Great job! Coastal Softwash USA was a delight to deal with! The complete exterior cleaning of my house after the Sage Fire went beautifully with an excellent end result. Great value for money and the work on my 2 story house was finished in a day."
Iain M. in Stevenson Ranch, CA
Project: Roof and home exterior softwash


"Excellent work and cordial...Coastal Softwash USA did a GREAT and professional job!!"
David T. in Rancho Palos Verdes, CA
Project: Softwash/Pressure wash exterior surfaces


"Coastal Softwash USA was prompt, courteous and accommodating. I'm very picky and they helped me out to get the job done in my little window of time."
Julie L. in Tarzana, CA
Project: Softwash/Pressure wash exterior surfaces


"It was a pleasure working with Coastal Softwash USA. They made it very easy and convenient getting this project done. I highly recommend. Thank you."
Annelyn D. in Gardena, CA
Project: Gutter cleaning


"The service provided by Coastal Softwash USA was excellent. They responded promptly. Accomodated my schedule. Performed all the work thoroughly and efficiently.... I would certainly use this company again in the future."
Julie L. in Tarzana, CA
Project: Softwash/Pressure wash exterior surfaces


"We had a roof and stucco siding to wash. I researched all the exterior washing companies I could find in
Los Angeles. I made contact with a couple. Coastal Softwash USA was both responsive and knowledgeable
without any sense of sales pressure or hype. Their prices were fair. Showed up when planned. Did a great job. I would
HIGHLY recommend them."
Brad B. in Los Angeles, CA
Project: Softwash roof and home exterior


"Had my rain gutters cleaned and clear for the rainy season. They were great. On time and professional."
Stacey C. in Torrance, CA
Project: Gutter cleaning


"When I got home from work and saw my deck, I about passed out. I was stunned at how almost brand-new it looked to me, especially on the sides of the deck that had never been cleaned....."

Thomas K in Newbury Park, CA
Project: Softwash/pressure wash Wood deck


"Coastal Softwash USA was great to work with and I would hire them again in a heartbeat!! They cleaned
my old drab looking fence and brought new life to it. They were a pleasure to work with."

Tracy A. in Los Angeles, CA
Project: Softwash Wood Fence


"Coastal Softwash USA is a very professional company! They spent hours to clean our gutters and did a really thorough job. I'll definitely hire them again."
Shirley H. in Tarzana, CA
Project: Gutter cleaning


"Coastal Softwash USA was very knowledgeable and available. They provided a great service for us at a price lower than a lot of other quotes. I was very pleased with their explanation of the process of their work, and they saved me a lot of trouble from doing the wrong work on my roof!"
Adam G. in Agoura Hills, CA
Project: Clean a roof


"Coastal Softwash USA was phenomenal.They arrived promptly and were extremely professional. The tasks were done thoroughly and made such an improvement to my house. I will definitely use Coastal Softwash USA again....."
Marie A. in Los Angeles, CA
Project: Home softwash/pressure wash


"We had an amazing experience with the Coastal Softwash USA crew, softwashing our Spanish clay tile roof. I knew pressure washing was not an option......."
Marcia H. in Westlake Village, CA
Project: Roof cleaning


"I've used Coastal Softwash USA on various occasions and they are always on time, considerate of our residential space (apartment community) and do a thorough job every time."
Nadra E. Goleta, CA
Project: Softwash, pressure wash decks, walls, porches


"Coastal Softwash USA was great. Confirmed the appointment time, showed up on time, went over the details of the job and performed professionally. The pricing was fair and they were a pleasure to have around the house....."
Lewis S. in Los Angeles, CA
Project: Pressure washing decks, porches, driveways


"95% improvement after softwashing my tile roof. A neighbor had his roof pressure washed and besides the damage to it, the mold/mildew is already coming back!..."
Arthur M. in La Verne, CA
Project: Roof cleaning


"Very professional."
Anu K. in La Canada Flintridge, CA
Project: Clean Gutters and Downspouts


"Excellent product and professional and knowledgeable service."
Homeowner in San Marino, CA
Project: Clean gutters and downspouts


"Easy to work with. Responsive to our needs. Fair prices"
Judson E. in Pasadena, CA
Project: Softwash/Pressure wash Exterior Surfaces


"Coastal Softwash USA explained everything in detail and also made good suggestions"
Vicki W in Arcadia, CA
Project: Roof clean


"A totally great, absolutely professional job by Coastal Softwash USA"
Matthew D in Los Angeles, CA
Project: Powerwash Exterior Surfaces


"They were a pleasure to work with and we couldn't have been happier. Quick communication and great quality. It is also great to know they use eco-friendly and drought compliant techniques. Thank you so much, again!"
Homeowner in Torrance, CA
Project: Powerwash Exterior Surfaces


"Responded to my request quickly and set up an appointment. Did a good job and the price was reasonable. I would use them again."
Carol L in Thousand Oaks, CA
Project: Powerwash Exterior Surfaces


"Coastal Softwash USA did a terrific, thorough job of cleaning my gutters and softwashing my porch and driveway. Looked brand new. They were professional, prompt, with very reasonable prices. They were also very honest about what I DIDN'T need, which helped save me money."
Joe L in Glendale, CA
Project: Powerwash Exterior Surfaces


"Very impressed! Did a great job on our tennis court. Now that I see what softwashing can do without damaging my tennis court, I will do it yearly."
Robbin C in Los Angeles, CA
Project: Softwash tennis court


"Coastal Softwash USA did a highly professional and efficient job on cleaning the debris off my tile roof. My yard was left super clean of the debris removed. I will hire again."
Spencer M in Reseda, CA
Project: Roof clean-debris


"These guys were honest, on time, followed directions and did a fantastic job. They told me exactly what to expect and the results were excellent. I don't have to paint my home now and softwashing left ZERO damage to my stucco-excellent!!! Can't say enough good things about our experience."
Mark A in Redondo Beach, CA
Project: Softwash exterior surfaces